Bayern Is Back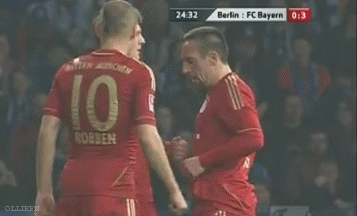 It's been a while but I'm back! For sure! 
Exams took time, some projects took some time, then France and skiing took some more time (a week actually) and this site had to suffer. Sorry guys for that. There's no time for excuses - let's get to the point! 
FC Bayern Munchen
My favorite sports team is back! After the winter break, Bayern came back with big expectations and announcements - winning the Bundesliga and making it (at least) to the finals of the Champions League at their own stadium auf Allianz arena. But, things didn't go as expected. Few defeats, poor form and an unfortunate Schweinsteiger injury were just a start. Rumblings in the team came afterwards, Robbens unhappiness, Uli was furious and no one knew if Heynckes would be able to consolidate the team and make them work as one again. To make them work as a team like they proved they were able to in the beginning of the season. Dortmund went to +7 points clear and Basel won in the opening home game in the 1/8 finals of the Champions League. The sky was black. Literally. 
But then something happened. As a fan, I was really, really skeptical. I thought that that was it for the coach, that it's a matter of time before he'll get the sack. Fortunately, he came back. Obviously, consolidated the team, had a word with Robbery, put some magic in Gomez and that was it. Others followed naturally. Having scored 20 goals in the last 3 games, smashing Basel in the home game, we can simply say - Bayern is back! 
Let the magic continue, put your hands up - Robbery is back with a little help from Goalmez and Sexsteiger to join the team eventually! 
Cheers! #MiaSanMia
–
Written on March 18th, 2012 by Marko Srsan
Feel free to share!